One of the most common questions I'm asked when helping customers get set up is:
I forward calls to my mobile. How can I stop my business callers being diverted to my personal voicemail?
We have a number of customers who use Dial 9 exclusively for diverting calls from a landline they've purchased through or ported to us, straight to their mobile so they can receive calls wherever they are.
While this is a great way to get set up with a landline number for your business, you're met with an immediate disadvantage when dealing with unanswered calls, especially if you're using your mobile for both business and personal calls and you don't want business callers to hear your personal voicemail.
In this post, we'll look at a Dial 9 feature that is designed to help with this very problem, the Follow.
Setting up a Follow in Dial 9
The issue with using standard call forwarding is being able to detect when a call hasn't been picked up by your mobile. When a call is forwarded in this manner, we have no way of knowing the difference between you answering the call yourself, or it being picked up by your mobile voicemail.
However, a Follow behaves slightly differently in that you'll be prompted to press 1 to take the call when you answer it, which sends a response back to tell us you've picked it up, and not your voicemail. That way, you can set up your voicemail in Dial 9 instead, if the call isn't answered.
Setting it up is very simple; navigate to your Follows page under the Features dropdown in Dial 9 Connect, then click Create new follow.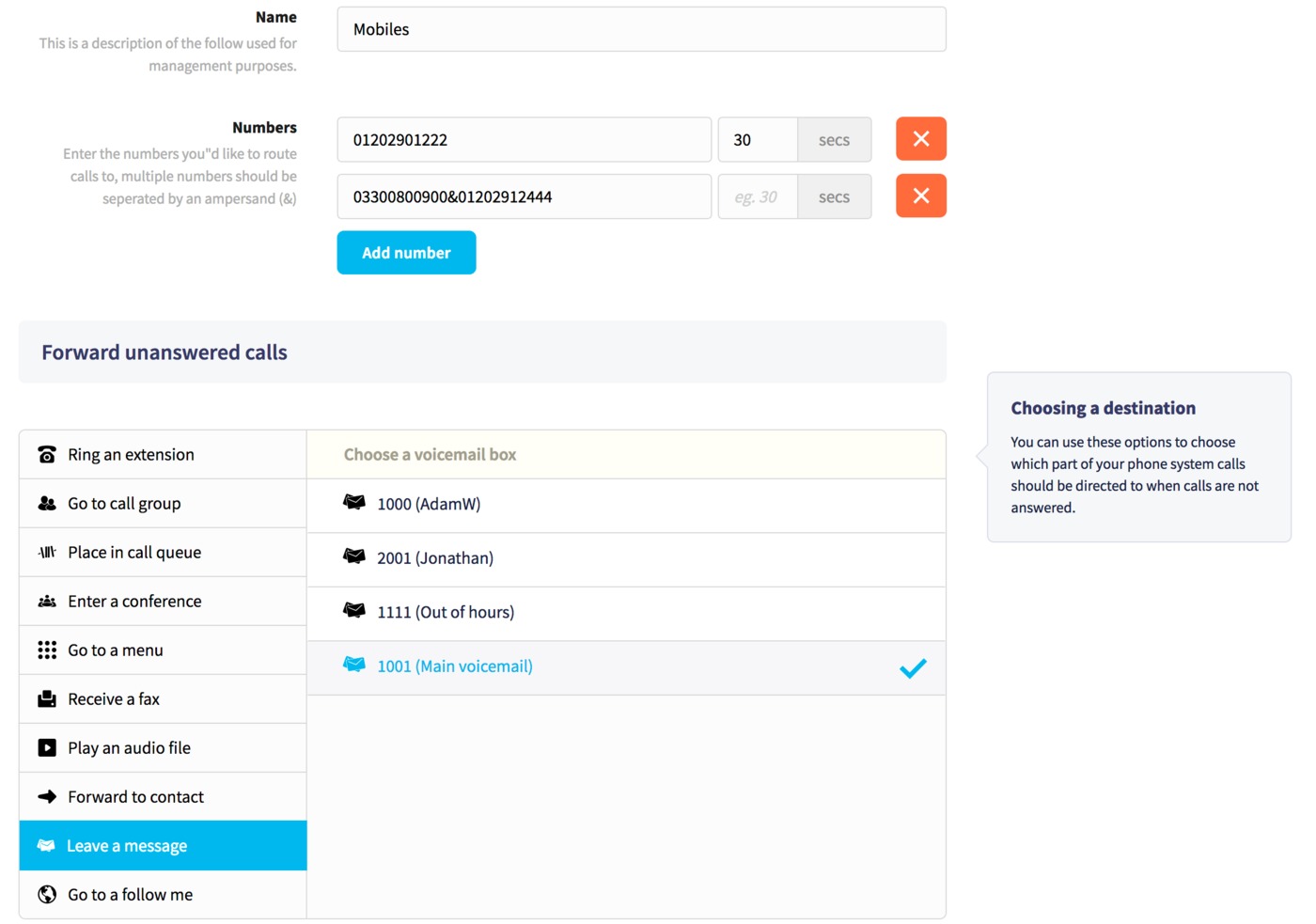 You'll be presented with a simple dialog where you can configure a number of options. Give your Follow a simple description, then add your numbers in a variety of different ways to best suit how you wish calls to be handled:
Adding sets of numbers to be called at the same using an & symbol as a separator such as 07777123456&07777654321 - the first person to accept the prompt will take the call and the other numbers will stop ringing.
Adding numbers in sequence, with a Timeout set for each line to wait between trying each number.
A combination of both of the above options.
Once you've added your numbers, you can add a timeout option if the call is not answered, which we'll set to our previously configured Voicemail Box.
When you're finished, just click Save, then you'll be able to set it up as a destination for your incoming number.
Customising the audio
Before the destination numbers are called, an audio message is played to the caller explaining that their call is being connected. This audio can be customised with your own audio message - just upload your own voice recording to your file manager then select that as the Caller Audio prompt.
Next, when a call diverted through a follow is answered, the callee hear an automated prompt from us to press 1 to answer the call. If you'd prefer to upload your own voice recording and play that instead, you can set that via the Callee Audio Prompt.
You'll be able to customise these prompts by editing the following after you've created it, within the Advanced details tab:

We hope you've found this useful; if you have any questions about Follows or any other aspect of our service, please don't hesitate to get in touch with us.