A very popular type of product within the Yealink family of VoIP devices, is the DECT range. DECT, or Digital Enhanced Cordless Telecommunications, is a specific wireless protocol designed for cordless devices.
This system works with a base station which is in essence similar to a hub, that connects directly to your local network using a wired (Ethernet) connection. Individual handsets then connect wirelessly to the base. This is particularly useful in large workspaces such as warehouses, and home or office environments, where a handset isn't necessarily located close to a network point.
For a number of years, we have supplied the Yealink W60P package, which contains a base station and one individual Yealink W56H handset. Additional handsets can then be purchased to add to the base, with up to 8 connected handsets being supported.
Recently, Yealink have increased their range and introduced some updated products. We now have the full replacement package, the W73P for sale which supports up to 10 handsets instead of 8 connected to the base, as well as increased battery life and better standby time on the handset.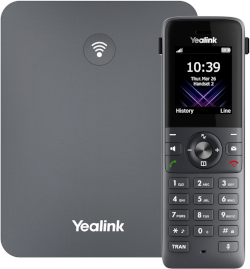 As an alternative type of offering, Yealink now provide the W59R handset for use in industrial type environments. This is a ruggedised handset with IP67 rating for protection against water and dust ingress.
And for certain use cases, the handset has a number of features available, including an integrated G-Sensor and alarm functions that allows a user to set alerts for a number of scenarios such as zero movement or man-down. There is also a simple integrated push button alarm from emergencies that can page other connected handsets.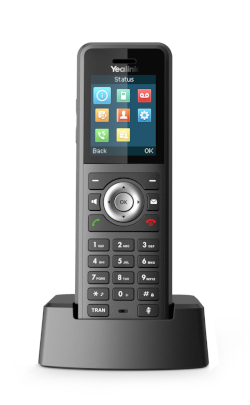 More information about these products can be found within the DECT device area of our store.