In this post, we're going to review one of our most popular mid-range Yealink phones - the T23G. With all the same features that you'd expect from a desk phone but at a much more affordable price point, this particular device is marketed towards smaller business users.
We'll be taking a look at the main features available, followed by its design, setup and reliability, with a final verdict to finish.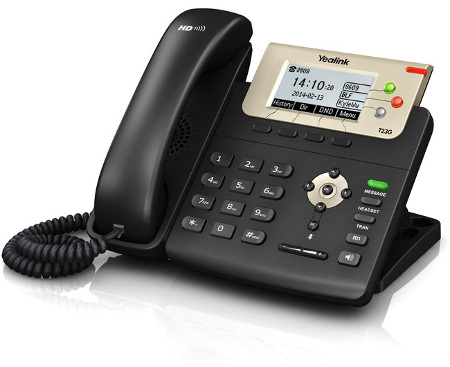 Features
The main and most comparable features available on the Yealink T23G are:
Features
SIP accounts (lines)
3
Display
132x64 pixel grayscale LCD
Memory keys
3
Ethernet
2 x 10/100/1000 ports
Power over Ethernet (PoE) support
✅
Design
The T23G is a slightly more compact phone when compared to it's bigger brothers such as phones in the T4x range, but still sports a clear, good size screen for displaying call information and labels for each of the programmable keys. There are 3 memory keys to the right hand side of the screen which can be programmed with various functions, ranging from speed dial shortcuts to your most called contacts, or BLF (busy lamp field) monitoring to show the availability of other connected extensions in your account.
In addition to the programmable keys, there are a number of keys to the right of the keypad for commonly used functions, such as voicemail, volume controls and mute, speaker phone and call transfers.
Finally, for those who have PoE (Power over Ethernet) available in their network, you can power up the phone simply by connecting a network cable to it, saving a power socket and not cluttering your desk with an extra cable. For those that don't, you can purchase a power supply separately.
Setup
As with all current Yealink phones, the T23G fully supports auto provisioning, which can be set up with a couple of clicks through Dial 9's hardware provisioning area, then provisioned by pointing your phone to our provisioning service. For any customers that purchase hardware on our store, we offer to set this up for them.
The programmable keys can also be set up via hardware provisioning in Dial 9, or via the web interface for the phone itself with just a few clicks. Because the device is designed to look and feel like most traditional desk phones, using it is a breeze. Once you have it setup, you can start making and receiving calls straight away and everything will feel familiar, with no complicated learning curve necessary when it comes to using it.
Reliability
Along with the phones simplicity and ease of setup, it is a very reliable phone to use in your home or office every day, with call quality in particular being excellent and the buttons responsive. In the unfortunate event of a hardware problem, Yealink offer a fantastic lifetime warranty on the phone, which we of course provide for any devices purchased through our store.
Summary
Overall we've found the phone to be a excellent option for those wanting a simple and easy to use device that has all the features you'd need from an enterprise level handset. Offices with a larger number of extensions or lines might find a phone with more programmable keys such as the T46G useful.
You can find out even more information about the phone on our store, or, if you have any questions, please don't hesitate to get in touch.