Along with the phone services that we provide here at Dial 9, we also supply number of recommended, compatible hardware options. Today, we're going to be reviewing one of our recently added offerings - the cordless DECT Yealink W56P.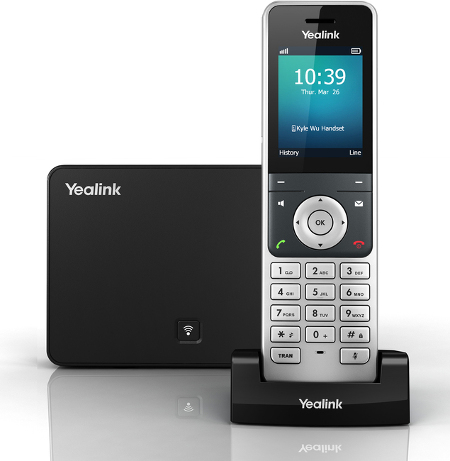 A number of customers are already familiar with its predecessor, the W52P, but for those that aren't, both devices provide a wireless option using the DECT standard for users looking to be able to receive calls on a handset that they can carry around with them, but with all the same great features that are available on a fixed desk phone.
The device works by using a Base station which plugs into your network, then connects wirelessly to one or more handsets. Far beyond the capability that a traditional cordless, landline option has, the W5x base stations can connect up to 5 handsets at once and handle up to 4 simultaneous calls.
We'll next look at the main differences between the W52P and the W56P.
Feature comparison
Here is a quick comparison table showing the main feature differences:
| | W52P | W56P |
| --- | --- | --- |
| SIP accounts | 5 | 5 |
| Simultaneous calls per base | 4 | 4 |
| Number of supported handsets per base | 5 | 5 |
| Talk Time | 10 hours | 30 hours |
| Standby Time | 100 hours | 400 hours |
| Headset port size | 2.5mm | 3.5mm |
| Handset display | 1.8" colour | 2.4" colour |
| Quick charge support (10 minute charge for 2 hours talk time) | ❌ | ✅ |
| USB charging support | ❌ | ✅ |
The main advantages the W56 handset offers over the W52 are a larger screen, far longer battery life and support for quick charging. The base stations are actually the same for both units, meaning if you're already using the W52P, you can purchase a new handset only (the W56H) and connect it to your existing W52 base, either to replace your W52 handset completely, or as an additional one.
Design
This is one of the best aspects of the W56, in particular when compared to the W52. The handset is taller, but much slimmer and easier to hold than then W52, and as a result you have a much larger, clearer screen to look at. You also have far bigger and more well-spaced out buttons as a result of the increased footprint, which makes it much easier to quickly dial numbers when making calls by helping to avoid errant key presses.
Setup process
Setting up the base station can be done in the same way as a Yealink desk phone using the auto provisioning service, manually within the base station's configuration interface, or automatically by us when hardware is purchased in our store.
The process of "pairing" a handset is very easy, and when a new handset is powered on a series of prompts just need to be followed on the screen, then a corresponding pairing button pressed on the base station. Once the handset is paired, it will be stored in the handset's memory so even if the handset loses charge it will automatically connect again once power is restored.
Reliability
We've found the handsets to be excellent in terms of audio quality, even when a distance away from the base, and with the fantastic fast charging capability, you can be back up and running very quickly even if the handset loses charge as a result of being disconnected from its charging dock for a while. That said, once the phone is fully charged it can be kept away from the dock for the duration of a typical working day and won't need to be charged again until you've finished.
In some cases though, if the handset is in constant use, it may need to be topped up but again as the overall talk time may not quite last a full day, but this can be done very quickly if needed. Otherwise, if you're just using it for a few calls during the day and it's mostly on standby, you won't need to.
Summary
For users that require a cordless phone, the W56P represents a fantastic option, especially as a result of the good battery life and fast charging capability. For those users already using a W52 that would benefit from an upgrade, it's made simpler and less expensive as a result of the base stations remaining the same; just purchase the handset separately, disconnect your old one, then power up and pair the new one when it arrives without having to make any configuration changes.
If you're just looking to purchase the handset, you can find it in our store here.
As always, just drop us an email with any other questions.